Slat and flap system of the Airbus A380
4-Quadrant-Drives
Product details:
4-quadrant-drive for the simulation of dynamic loads in shaft systems.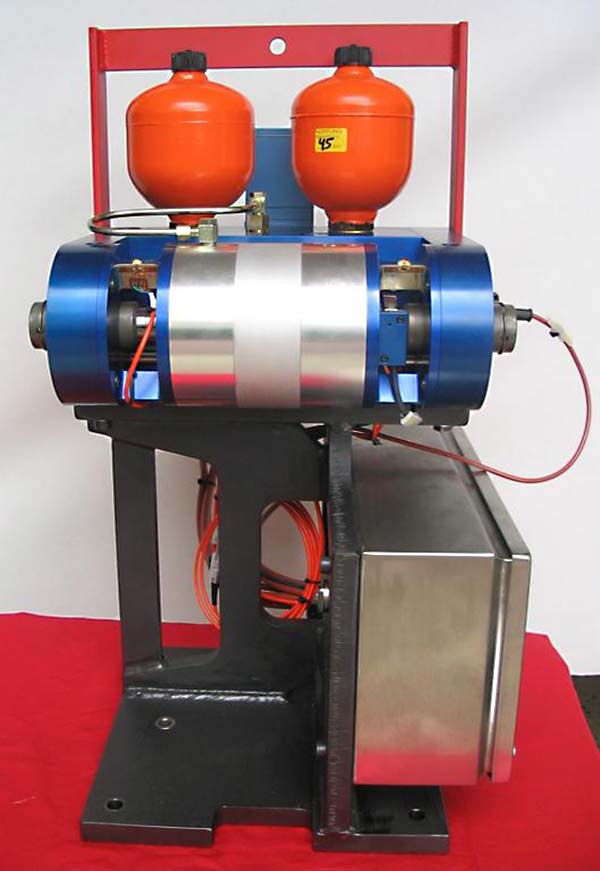 Highly Dynamic 4-Quadrant Hydraulic Drive
The 4-quadrant-drive is used for the simulation of dynamic loads in shaft systems. For instance this takes place on the slat and flap system of the Airbus A380 in the High-Lift-Test-Center in Bremen. The drive consists of a hydraulic gerotor set (interior annular gear motor), which is controlled via a servo valve. It can run clockwise and anticlockwise as well as drive and brake. That is why the term 4Q-Drive is used.
The construction design is extremely compact and low inertia. Possible accelerations can be above 100.000 rad/s2. In order to achieve a high rotational speed the supply lines are duplicated. Two lines per connection (A and B) go into the engine mount and conduct the volume flow from both sides into the gerotor. In lines A and B there is additionally one pressure control valve each. These valves provide hydraulic overload protection. Two shear pin couplings are implemented to serve as a mechanical overload protection in the shaft system. The choice of shear pins limits the transferable torque in the shaft system.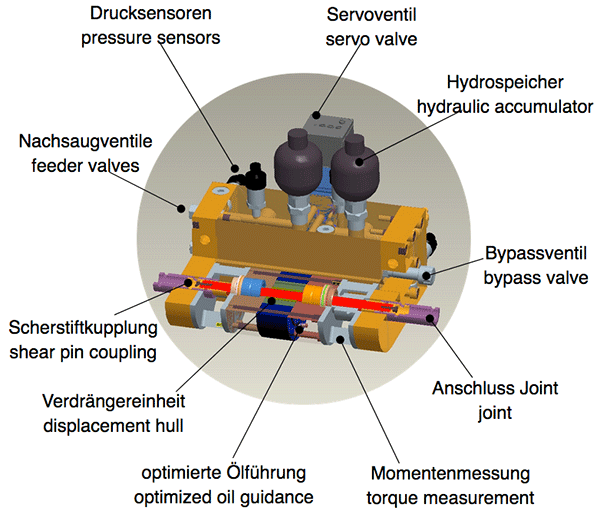 The 4-quadrant-drive has an EtherCAT® field bus interface. The signals: angle, rotational speed, torque and load pressure with a frequency of up to 5kHz are available.
Features:
torque control in 4 quadrants
hydraulic free wheel with zero torque control
highly dynamic (+/- 1000 rpm in 10ms)
small installation
mountable in the shaft system
hydraulic overload protection by pressure control valves
mechanical overload protection by shear pins
integrated torque and speed sensors
digital torque and speed control
control via EtherCAT® with EtherLab® technology
open Software (GPL)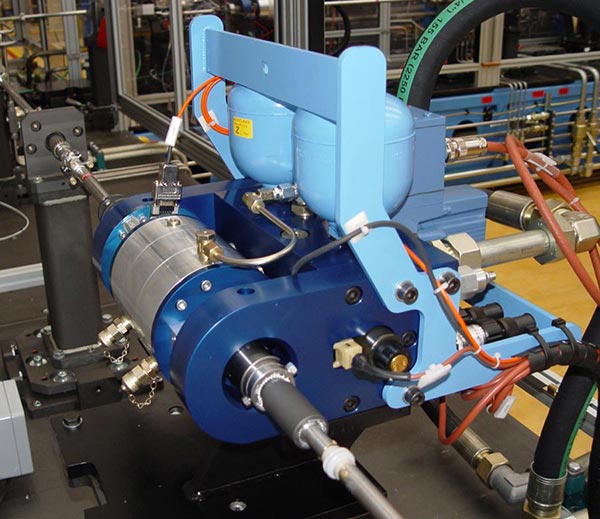 Technical data:
| | |
| --- | --- |
| maximum frequency: | 5 kHz |
| maximum speed: | 4000 rpm |
| maximum torque: | 250 Nm |
| maximum drive shaft: | 1600 Nm |
| inertia: | J < 0,002 kgm² |
Your contact person: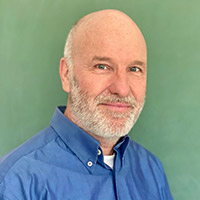 Dr.-Ing. Siegfried Rotthäuser
Phone:
+49 (0)2 01 – 3 60 14-0
E-Mail: