Portable swivel unit
Swivel Test Rig
Product details:
Test of items in a simulated acceleration situation through different angle settings.
With the swivel test rig, test items can be tested in a simulated acceleration situation using different angle settings. Typical test specimens are internal combustion engines or mobile fuel cells, whose function then can be tested under simulated driving on slopes and in curves.

The test rig combines the advantages of stationary installed swivel units regarding load capacity with a mobility that these test rigs usually do not have. The compact dimensions, the wide temperature range and the protection class enable easy operation, especially in climatic chambers.
Mechanical Design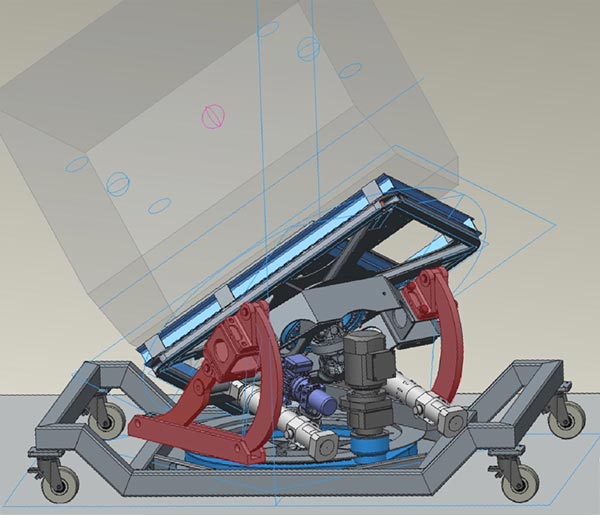 The swivel test rig has a stable base frame on rollers so that it can be moved with the test item.
Between the pallet holder and the base frame there is a four-joint, which realizes the swivel movement. Because of its kinematics, this ensures that the center of gravity of the test item - as far as its weight and center of gravity position are within the specification - always remains within the contact area.
This ensures that the construction cannot fall over under static load and swivel. Thus, a comparatively narrow structure provides protection against tipping even at large rolling angles. The virtual pivot point can be realized with the four-joint in a particularly advantageous way above the construction.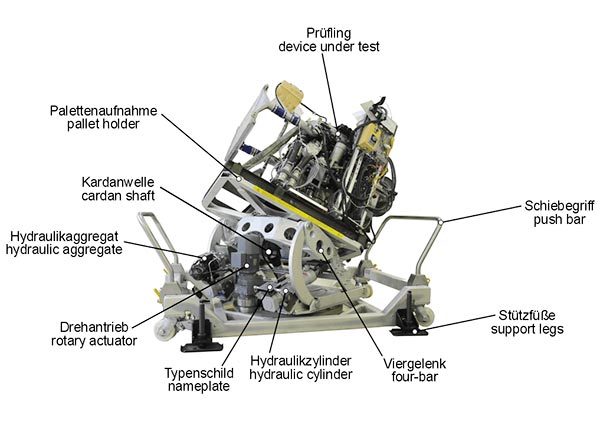 The swivel test rig has additional support feet to increase the contact area.
The four-joint linkage is connected to the test rig via two slewing rings, of which the lower one is driven. The angle determines the direction of the swivel movement. The pallet holder remains aligned with the base frame in any case.
Swivel Unit
The rotation axis is electrically driven. The swivel axis is hydraulically operated by a compact unit. The end positions of both axes are monitored via limit switches and the motors are switched off when they are crossed. Only the opposite direction of movement can then be actuated.
Test Item Control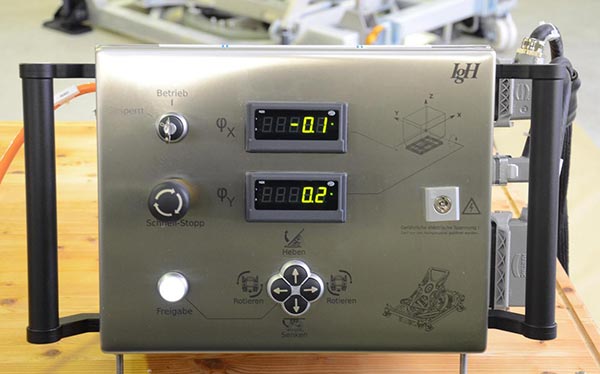 The test rig is controlled via a separate operating unit which is connected to the swivel unit. The electrical supply is provided at the operating unit. In addition to the operating buttons, the unit has an angle display for the roll and pitch angle.
Optionally a control unit can be delivered, allowing to move to the target positions automatically. Besides a manual input, setpoints can be transmitted via EtherCAT or CANbus interface.
Technical data:
mass:
1000 kg
payload:
1500 kg
dimensions:
L = 2100 mm
W = 1400 mm
D = ~900 mm (clamping level from the ground)
swivel range:
0° to 45°
rotation range:
±180°
electrical installed power:
2 kW
temperature range:
-40° C to 100° C
Your contact: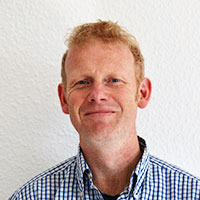 Dr.-Ing. Wilhelm Hagemeister
Phone:
+49 (0)2 01 – 3 60 14-0
E-Mail: